While many of the parts are CNC machined, the final touches are made manually by highly skilled engineers.

This ensures each component goes through rigorous inspection and scrutineering before final assembly. 

The damping is adjustable, however it is a fairly small window of adjustment for fine tuning. We have set the damping up as close as possible to "perfect", but sometimes fine tuning a damper is more of a personal thing.
The rear system can be supplied with or without uprated dampers, depending on personal preference.

The dampers we have chosen for the rear kit are a monotube design made by Eibach. The rear damper needs less travel and is narrower, yet needs to cope with a wide variety of loading. The monotube design offers this adaptability as well as offering good noise isolation via the high quality rubber bushes. 
The air springs have been set up to suit stock dampers as much as possible, so adding this is optional, yet it's a great upgrade for performance. 

Another option is our unique adjustable accumulation system which offers a variable "swept" volume of air inside the system. This allows the user to alter the spring frequency to switch between comfort and sport, this is also useful when altering the load in the back of the vehicle.
Another Intermotiv exclusive offering, a T5 specific tank, which has been designed to to mount underneath the van.

The systems are of course available with a full choice of tanks for those who might want to mount them inside, however we have found that the majority of T5 owners would like to maximise the available interior space. Because of this the underslung tank is supplied as standard with this kit. The tank can be mounted underneath the vehicle without getting in the way of any standard components.
The AutoPilot V2 System from Air Lift Performance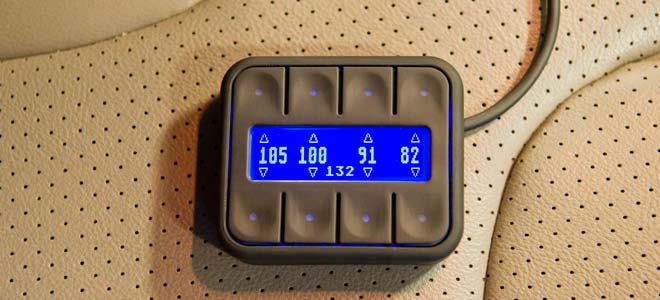 One touch ride height, fully programmable. The system can be set to adjust automatically on start up.
Adjust springs individually, in pairs or all at once.
Auto leak detection will monitor and adjust pressures automatically, and warn you of problems.
Tuning features allow you to set exact requirements for each spring for a perfect height and minimal fuss.
Complete with control panel, ECU, pressure transducers, solenoid valves and all other components. Just one wire to the dash!
The Complete Package
A complete package is just that. It includes everything you'll need to convert your car for air suspension. That means:
- Front and rear suspension kits
- Air Management system
- A powerful, 100% duty cycle Viair 380C compressor
- A lightweight 4 gallon aluminium air tank
- Air lines complete with fittings
- Electrical wiring
- Water Trap included
- Comprehensive instruction manuals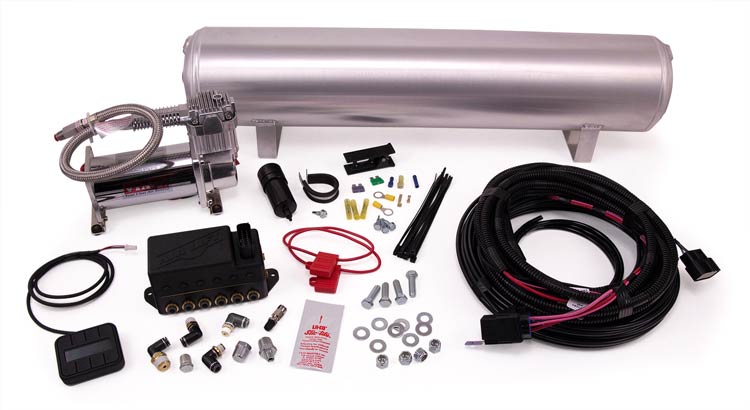 Tailored For You
Packages can be built to suit your individual requirements.  You can select a different compressor package or tank to suit your needs.
Air Line Size
Standard kits come with 1/4in air lines, these are by no means slow, but on larger/heavier vehicles you will find the bags inflate faster with 3/8in air lines.  Adding 3/8in lines to a small car can be fun in that it's very quick, but beware that the management system may become less accurate in doing so. 
Air Tanks
The bigger the tank, the more air you have to play with.  But check your available space first as some of the larger tanks won't fit in some cars!  A larger tank will often benefit from a larger (or second) compressor to cope with the increased volume it has to fill.
Compressors
The bigger the compressor, the faster your tank will refill.  Some example fill rates are below.  Opt for a dual compressor system to really maximise your system.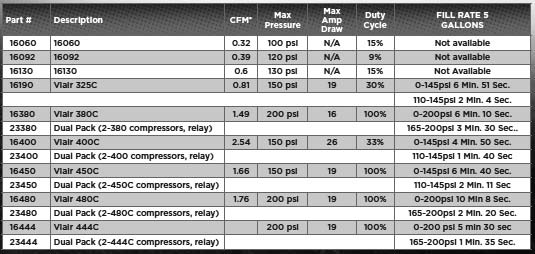 Even More Options?
If you don't see the package you're looking for, please don't hesitate to get in touch and discuss your requirements.