Adjustable Helper Springs:

Air Assisted Suspension.
Firmer suspension under load, but comfortable when unladen. 
Air Lift's air helper springs are designed to fit in conjunction with your existing suspension, allowing you to fine tune the ride. They have a number of benefits and are suitable for a wide variety of applications, particularly when you're towing a trailer, driving a fully loaded van, motorhome or camper conversion.  In custom applications they are also useful for improving handling on lowered vehicles.  
We offer the entire range, suitable for all manner of vehicles.
Ideal for:
Towing
Camper conversions
Motorhomes
Vans, pickups and other commercial vehicles
4x4 and offroad vehicles
Main benefits:
Fully adjustable
More stability
Prevents suspension sag
Prevents bottoming out
Improved handling
Improved comfort
Safer towing
Far more versatile than traditional heavy duty springs
Simple, DIY friendly installation
Simply add air when towing or carrying heavy loads to add support, then deflate when empty to give a softer ride.
The majority of kits are very easy and quick to install with common hand tools. All are made with rugged, durable components, such as multi ply air springs and heavily powder coated steel brackets.
Lifetime limited warranty on all Air Lift Load Support kits (excluding custom kits and control systems).
Fully adjustable with a tyre pump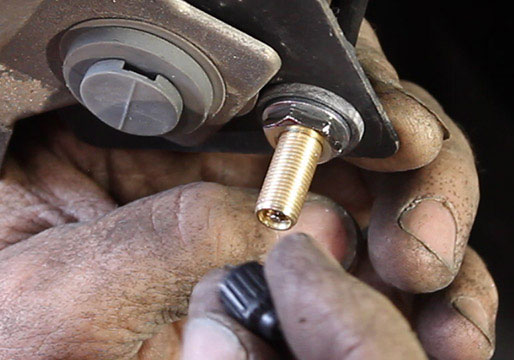 Improved weight distribution and headlight aim

Reduced sway when towing

Reduced body roll and improved stability

Prevents bottoming out

And more...

Air springs also help to improve the handling and stability, which in turn can improve braking and reduce tyre wear. Many customers also use air helpers along side lowering springs to improve the ride quality without sacrificing the stance and handling benefits.

Air Lift 1000 Helper Springs for open coil sprung suspension
Air Lift 1000 helper springs are air bags that are designed to fit inside the rear coil springs.  These are made from a very tough and flexible polyurethane, and are designed to take up to 1000lb (just over 450kg) of load levelling capacity.
The best part is we can supply these in a huge variety of shapes and sizes, so even if you don't see your vehicle listed, you can measure up and check out our universal options.

Air Lift RideControl helper springs for leaf sprung suspension
Air Lift RideControl helper springs are designed to mount between the chassis and the axle or spring.  They provide up to 2000lb (just over 900kg) of levelling capacity.  These systems use a compact air spring so they fit into tight spaces, while still packing a punch for lifting.

LoadLifter 5000: Heavy duty helper springs for leaf sprung suspension.
LoadLifter 5000 helper springs are designed for heavy duty leaf spring applications.  These use a larger (usually 6"+) bellow style air spring, which enables them to provide up to 5000lb (over 2200kg) of levelling capacity.
Also available is the LoadLifter Ultimate, which includes an internal bump stop.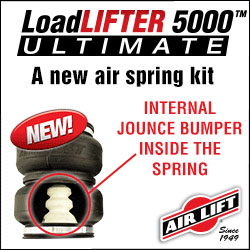 Categories